Quests are an important part of the game. By completing quests, players can progress through the storyline, unlock new locations, and gain new items and recipes. Quests can be split into four categories: Main Quests, Side Quests, Merchant Guild requests, and Event Quests.
Main Quests
Edit
Main quests are the quests which the player must complete in order to progress through the main storyline and unlock new areas. These quests do not give rewards.
Side Quests
Edit
Side quests are optional quests that the player can undertake. These quests are not required to progress through the main storyline and most can be rejected. These quests will be unlocked as the player continues through the storyline.
Merchant Guild Requests
Edit
Unlike regular side quests, these quests are randomly generated so there is no set reward or objective. Common objectives include finding people in dungeons, gathering material, or finding someone in Farrowveil Town.
Event Quests
Edit
These quests are special limited time only quests. They usually give special rewards like Attires.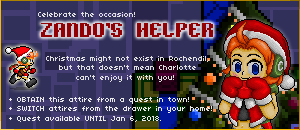 This was available from December 21st, 2017 to January 6th, 2018. Players could obtain the Zando Clauss' Helper attire by correctly answering the 3 questions given by Zando's Retired Helper.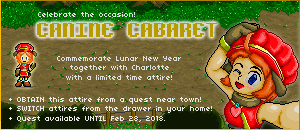 This was available from February 11th to February 28th, 2018. It was created to celebrate Lunar New Year. Players could obtain the Canine Cabaret attire by helping a dog near the signpost in Farrowveil Town's Outskirts.